Newsletter #9 — YouTube Videos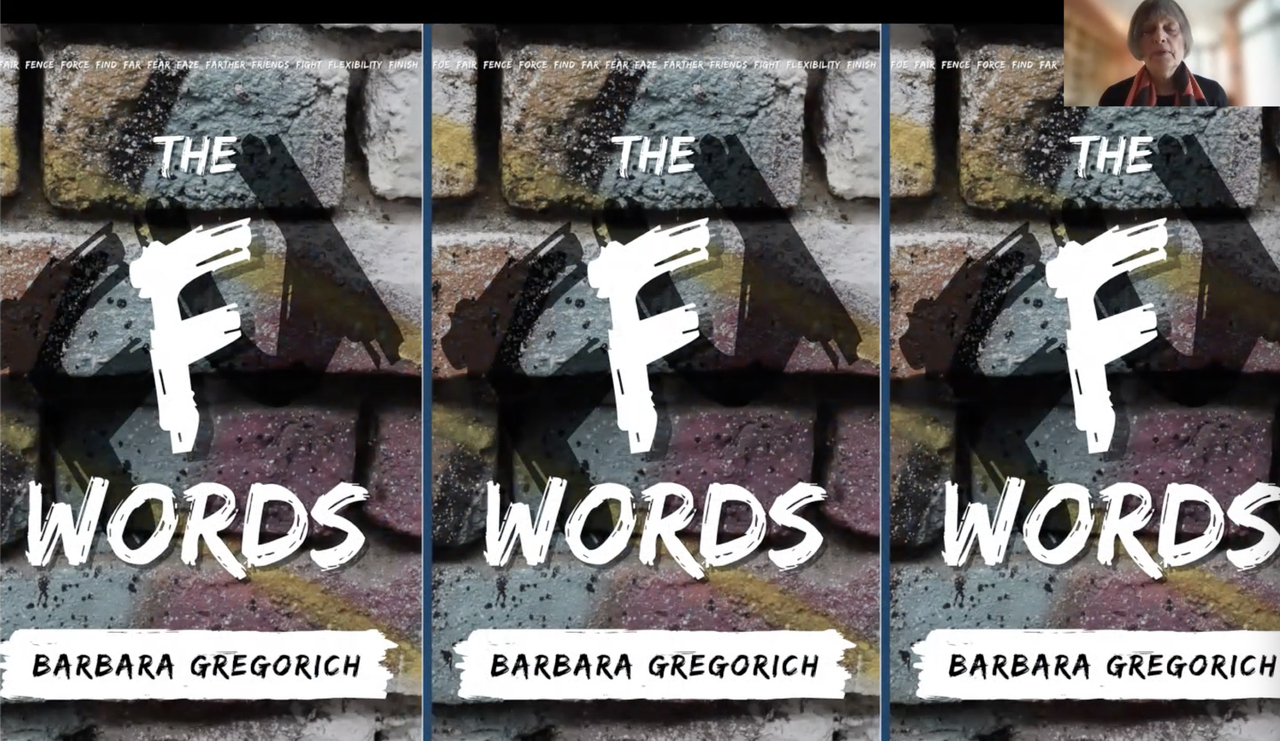 May 7, 2021
Newsletter #9 — YouTube Videos
Making Zoom Videos— I spent an entire week in April figuring out how to record on Zoom with a Keynote show running full-screen (not easy, at least for me), then trimming the piece, then converting it to an MP4 file so that I could post it on YouTube. I hope to record four or five of these brief videos.

The first is titled The F Words: Protest and Poetry, and runs 90 seconds. You can view it here: https://www.youtube.com/watch?v=hcg_U-4TLeA

I chose to make my first YouTube video on the poetry in The F Words for two reasons. First, the poems that Cole writes are an important part of the story. Second, I've been emphasizing the political-protest and social-justice part of the story in the last three or four months and felt that it was time to mention the poetry.

And I promise that between now and my next video, I will learn how to prevent Zoom from cutting off the top of my head!! (You can, of course, see my cut-off head in the graphic above.)

Bookstores— Part of the pre-pub marketing I'm doing for The F Words is to write to bookstores: every one I can find in the greater Chicago area, and the top-listed bookstores in each state. My goal here is to introduce them to The F Words and hope that they will carry it in their store.

I suspect that I will receive no replies for this round of emails, and that's because bookstores determine which books they will carry based on several factors, including but not limited to: book reviews; fame of author; prominence of book in the distributor's catalog; visits from book distributors; monetary incentives from publishing companies; customer demand. But to be clear: While The F Words is not physically in any bookstore anywhere, it is available for pre-order at bookstores everywhere.

Maybe I'll have some reviews by July. I hope so. I do plan another round of bookstore submissions then. That will be the second time bookstores will have heard from me . . . maybe my second email will trigger their interest. Of course, if I have any reviews by then, I'll mention them in the email.

And then (third time's a charm!) I will email once again in late August, just before publication day — hoping that my third email will convince them that they want copies of The F Words on their shelves.

Inciting Incident— In my May 1 blog I talk about the inciting incident. (Sometimes that is the dog in the night . . . but in this case it's the handwriting on the wall.)