Newsletter #54 — Unknown Readers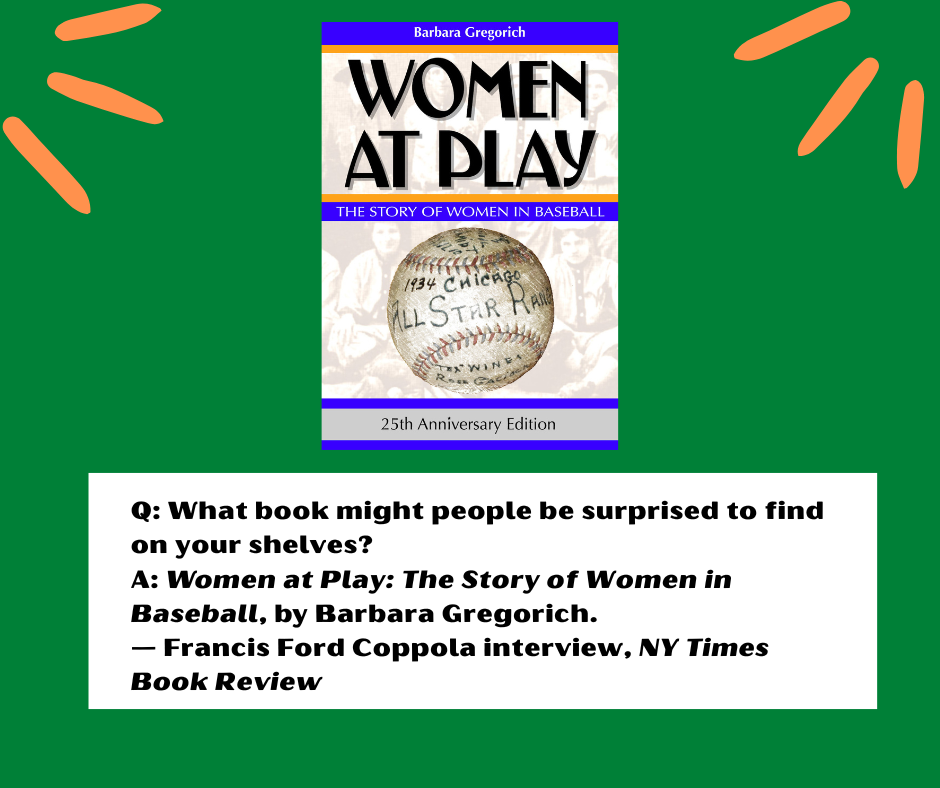 March 1, 2023
Newsletter #54 — Unknown Readers
Touching Lives — In writing any given book, a writer has an audience in mind: a kind of mental picture of who will want to read this book. But a writer never knows more than a small, small percentage of the people who have read his or her book. And this is a positive thing: books are purchased and read around the world, over decades and centuries. A writer never knows whose life he has touched with his story.
Imagine my surprise when, just a few years ago, I woke up one morning to learn that Frances Ford Coppola had mentioned Women at Play: The Story of Women in Baseball in a New York Times Book Review interview. This more than twenty years after the book had been published. What a good feeling this was, reaffirming that a written work has a life of its own after it leaves the writer's hands.
Was Shakespeare a Woman — Back in 2006 Phil and I attended a talk at the Newberry Library featuring Robin Williams and her latest book, Sweet Swan of Avon: Did a Woman Write Shakespeare? The talk and slides were outstanding. And provocative. We bought a copy of the book and read it.
Over the years I mentioned this book to various friends, partly in the hope of having a discussion on the subject. But to my surprise not one of the friends I spoke to was willing to entertain the possibility that a woman might have written the plays attributed to Shakespeare. There was no discussion: the subject was dismissed before a discussion could begin. I have to say that what I encountered was minds closed to this particular possibility.
Because of these reactions, I stopped mentioning the Robin Williams book to people.
But now, in the year 2023, another woman has written a book on the same subject, but with a slightly different bent. In Shakespeare Was a Woman and Other Heresies: How Doubting the Bard Became the Biggest Taboo in Literature, Elizabeth Winkler has researched and analyzed why people react the way they do. The book will be published May 9. It's already on my shopping list.
More Writing Life— In My Writing Life: 11 I talk about my writing life during the 2016-2020 years.