Newsletter #61 — The American Library Association Conference 2023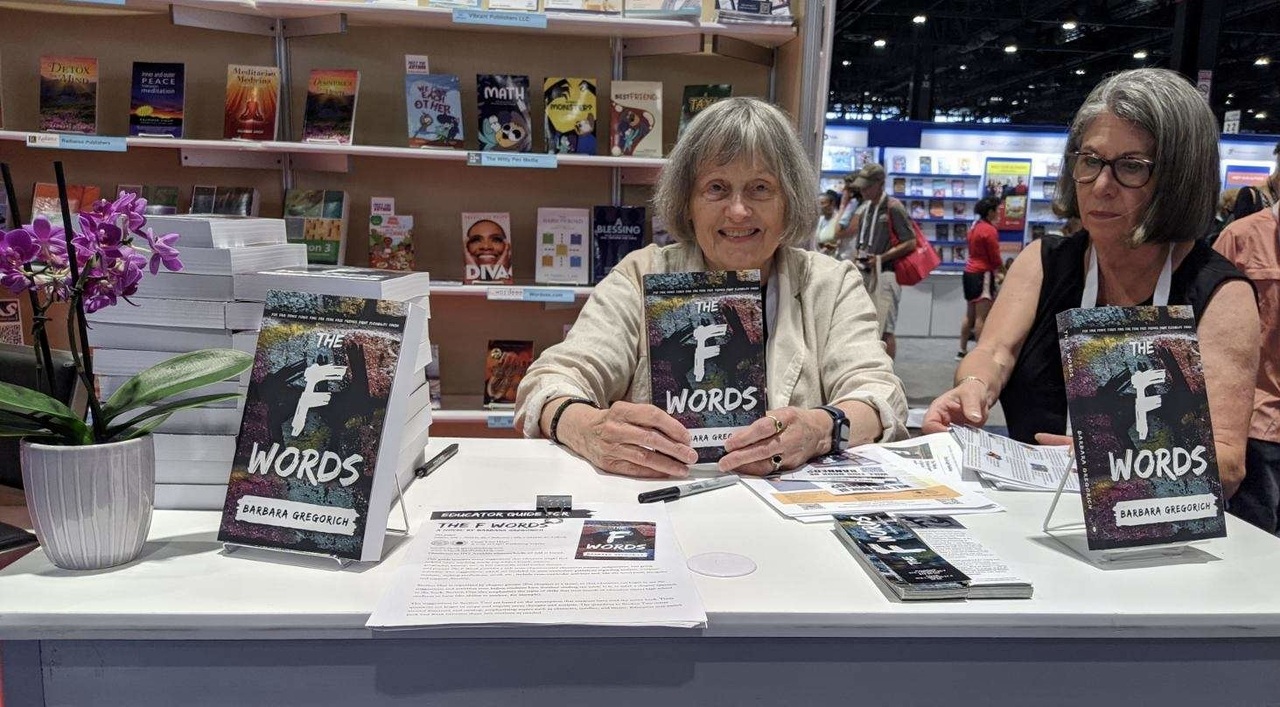 July 1, 2023
Newsletter #61 — The ALA Conference 2023

2023 ALA Conference — Over the years I have been to several American Library Association annual conferences, primarily the ones held in Chicago. (The conferences rotate through different venues around the country.) The number of attendees averages 18,000 in post-COVID years. Add to that all the booths and all the books, and you have a very crowded place.
I think that all Chicago-based ALA conferences have been held in McCormick Place, and this one was no exception.
Preparing for the three days of being there to help sell The F Words took a lot of work. I examined the lists of workshops (hundreds and hundreds of them) and decided which to attend in order to promote my book. After that I examined the lists of exhibitors (hundreds) and decided which booths to visit so that I could learn more about whether the publisher would be a good fit for my mule book. And I wanted to follow up with the publishers who still had Exit Velocity but hadn't replied.
Plus, I had to schedule in an exhibitor's party to attend at the request of my editor. And I wanted to line up clothing for each day: have it ready to go in my closet so that I could get dressed without wasting time. Conferences such as this are exhausting: you wake up early, drive to the site, choose a parking place (1,950 parking spaces for just McCormick Place West), trek from the parking place to the huge exhibit hall, stand in line to grab something to eat, then enter the exhibit floor and work from 9 to 5. Then drive back home through the worst of rush-hour traffic, grab something to eat, go to sleep, and start the whole thing over.
McCormick Place is the largest exhibition center in North America, and all the advice is: wear comfortable walking shoes. But I didn't want to be autographing while wearing my everyday sneakers. So I bought a pair of red semi-dressy Merino wool sneakers. They came with two pair of shoelaces, one pair red, one pair white. The red laces were already on the shoes and I had no time to switch even if I had wanted to. So red-on-red was it.
My publisher (City of Light Publishing) and I were one small part of 2023 ALA, exhibiting at the IBPA booth. (That's Independent Book Publishers Association.) On Saturday I even did a book signing. The photo shows City of Light Publisher and Editor Marti Gorman and me at the book signing.
All the books were gone before the half-hour ended, and we had a very touching experience when one of the work crew came up to the booth and almost apologetically asked if he could have a book even though he did not have a convention badge (because he was not a librarian, exhibitor, or speaker). He really wanted to read this book, and I felt honored that he did so. I signed it, and he shook my hand in thanks. I wonder if he knew or had heard or somehow sensed that this book is about working class characters. Or about fighting for social justice. I had another touching experience when a librarian asked for a signed copy and then asked me if I was from Indiana. I'm not. She went to high school with somebody named Gregorich (I think she said it was John Gregorich) and he later moved to California and she lost touch with him. We started talking about Black communities and Croatian-American communities and by the time we were done she said she was going to try to find her classmate again. A very short book signing time, but so fulfilling. I feel so good that The F Words appeals to people on many different levels
Once the conference was over with, I needed a day or two to re-orient myself to marketing the mule book and making decisions about Exit Velocity.
And then, onward to another multi-day event, the SABR 51 Convention, held in The Palmer House in downtown Chicago, July 5-9. SABR stands for Society for American Baseball Research. This will be sheer education and entertainment: I will not be working any booths or selling any books. I might not even wear my red shoes.
Outtakes — Yes, books can have outtakes.